{{speedydelete|Gay}}
Chevrolet Chevelle was the mid size car that produced by Chevrolet divison General Motors from 1964 to 1977. So far, there's 3 generation for this car. It appears in some Driver games and ussually had very fast performance.
Driver: You Are The Wheelman
Edit
It appears in Los Angeles only and for PC only as playable vehicles. It's painted in bright green rather than ussual Forest Dark Green that on line up and it has no stripes. It identified to be 1971 SS model judging by the performance.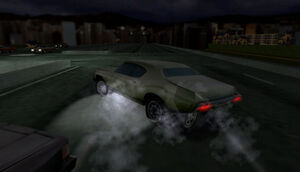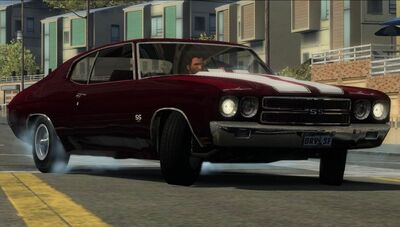 Driver: San Francisco
Edit
It's also appears in Driver: San Francisco and identified to be 1970 SS LS6 model with Cowl Induction. It has very fast acceleration and good max speed but like other muscle cars, it has extreme handling.
Performance
Edit
(Driver: San Francisco only)
Top Speed: 135 mph (Sometimes it can reach 139 mph)
Only two Chevelle that appears in Driver series and all of them is high performance model.