The Mustang is a car made by Ford Motor Company that was introduced in 1964 & continues to be made today. The Mustang was notable for creating the "pony car" class - small, high performance, yet inexpensive sports cars.
Driver: You Are The Wheelman
Edit
In the intro movie, Tanner steals a 1966-1968 Ford Mustang Hardtop from a parking garage & evades the police using it. However, his starting in game car is a 1970 Buick Skylark. Despite this
, the Mustang is featured elsewhere in the game (for example, as the "Take A Ride" option in the main menu) & the Skylark shares the same color as the Mustang, so it's likely that the Skylark is being used as a stand-in for the Mustang. The front grill is came from 1966 model but the body is resemble to 1968 model. This can be happen because the car part is interchangable.
In Driv3r, Ford Mustang appears only in Miami and always had white stripe. It indentified to be 1970 Ford Mustang Mach 1 model. Judging by performance, it might be 428 CJ version because it can reach high speed and high acceleration.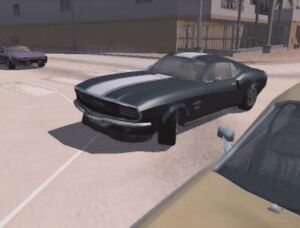 Driver: Parallel Lines
Edit
Two cars, the Cerrano and the Brooklyn, are based off of 1969-1970 Shelby GT500 and 1965 Ford Mustang Fastback.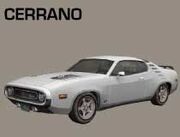 Driver: San Francisco
Edit
There are 5 Mustang in this game:
Ford Shelby GT500 (2010)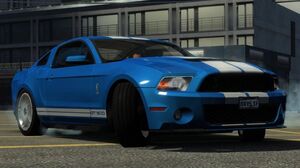 Ford Mustang Mach 1 (1973) Note: It might be the 351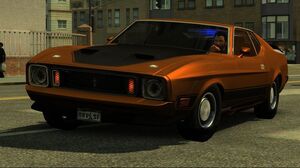 Cleaveland model Ford Mustang GT Fastback (1968) Note: Judging by the performance and Bite by Bullet Challenge, it might be GT Fastback with 390 Cu engine model.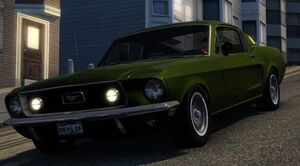 Shelby GT500 (1967) Note: classified under Shelby rather than Ford in the garage store.
Ford Mustang Convertible (2005-2009) Note: It's not a GT model, but rather a V6 model.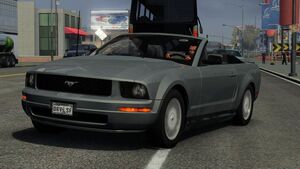 Performance
Edit
(Driver: San Francisco only)
2010 GT500 Model
Top Speed: 162 mph (can also reach 170 mph)
1973 Mach 1 Model
Top Speed: 129-130 mph
1968 GT 390 Model
Top Speed: 135 mph
1967 GT500 Model
Top Speed: 137 mph (Possible to reach 140 mph)
2005-2009 GT Cabriolet
Top Speed: 145 mph (Possible to reach 150 mph)
Mustang always show up in every Driver games except Driver 2
In Driver: San Francisco, a yellow Mustang Mach 1 is used as getaway vehicle in "Gone" challenge and 1968 GT 390 with highlander green also used in "Bite By Bullet" challenge chasing a black Dodge Charger. Both is resemblance to Gone in 60 Second 1974 movie and Bullit movie.